Outside return box for books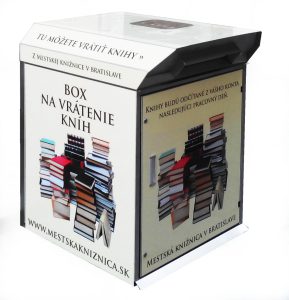 We offer self-service box for book returning. Now, your readers are not limited to library opening hours. To return a book, readers can choose any time of day or night. Self-box, which is located on the freely accessible place, is gaining more popularity both at home and abroad.
It is made ​​of stainless steel, designed for outdoor use and designed for maximum prevention of vandalism and secured against theft of the box's contents. Books are stored in a full-aluminium light return trolley, which can be easily removed for emptying and transport. Vehicle capacity is 260 books. The truck is equipped with a movable bottom on springs, so the books do not fall from a great height, and the impact of the books is extremely gentle. Furthermore, it avoids excessive bending of the worker while colletcting the books.
Of course there is a large enough hole for inserting the books, but at the same time the construction of the box prevents theft and removal of materials.
Dimensions of the box: 800 x 800 x 1100 mm
Large inlet of the box is also sufficient for larger books
Equipped with a total of four security locks
Inlet for books designed to prevent liquids to get into the trolley with books
Inlet for books designed to prevent theft and removal of materials through the hole
The return trolley is equipped with a floating elastic bottom on springs, ensuring that the books do not fall from a great height, and the impact is extremely gentle
Also, taking books out of the trolley is easier thanks to the floating bottom, and prevents excessive bending of the worker
High capacity trolley eliminates the need for frequent emptying of the box
The handling of the trolley is very easy due to the wide handle and castors
Box is made from stainless steel and therefore is resistant to moisture
Mounting holes on the bottom of the box allow to attach it to the floor for security against theft reasons
Box can be equipped with a graphic covering as per the customer request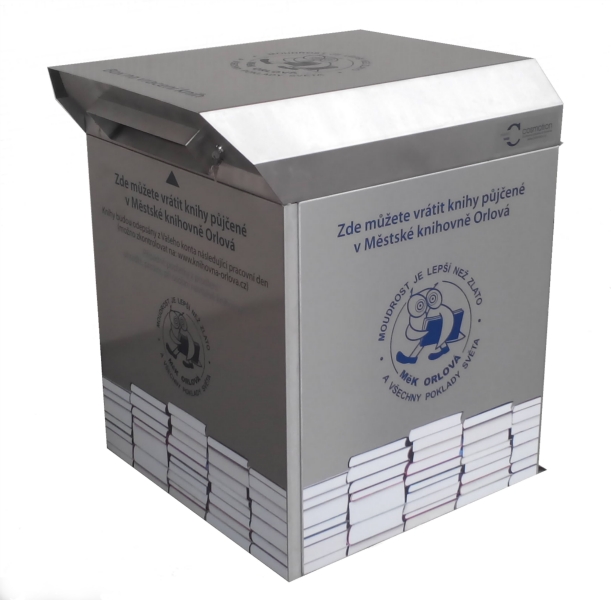 Downloads